Both beginners and experts may have a challenging time choosing the perfect tank and filters for their aquatic pets. With numerous brands in the market offering different features, it is hard to make a decision.
One of these recognized aquarium and filter brands is Aqueon. Is it truly worth buying?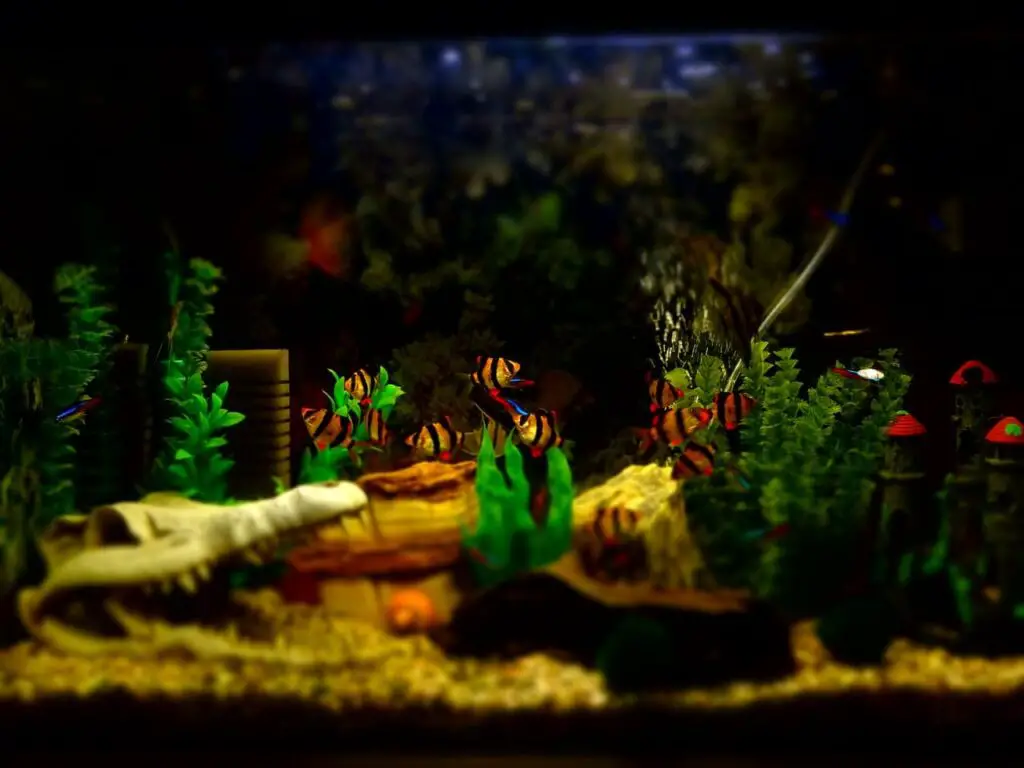 Aqueon Aquariums
Aqueon is one of the established brands when it comes to quality aquariums. It is a renowned company that has already captured a big customer base in the fish-keeping industry.
Are Aqueon Aquariums Good?
Yes, Aqueon aquariums are good. They are easy to maintain, have wide product options, and are affordable.
Aqueon requires less maintenance. It is also because of its 5-stage or 3-stage filtration system that sustains your tank's water sanitation and health.
It also offers more than 40 tank sizes. You can choose from its wide selection of aquariums – bow front tanks, corner tanks, cube tanks, frameless cube tanks, hexagon glass tanks, ready-reef tanks, rimless rectangle tanks, and standard glass rectangle tanks.
Aside from making good aquariums, Aqueon is offering reasonably priced tanks as well. Many are considering the brand since it is affordable yet certified to stand out among other competitors.
Does Aqueon Make Good Tanks?
Yes, Aqueon makes good tanks. It has quality tanks that are easy to install, with great features, and are multifunctional.
There is no doubt regarding the quality of Aqueon tanks. They are surely worth buying and will last a couple of years with proper maintenance.
Aqueon tanks are easy to install too. You simply need to follow the step guide which shall not give you a hard time since the tanks' features are very user-friendly.
When you buy Aqueon tanks, some of them include great, bright lighting as well as submersible heaters already.
These tanks are very convenient and flexible to use too. They can be utilized as freshwater, tropical, or saltwater tanks.
Is Aqueon Better Than Marineland?
Yes, Aqueon is better than Marineland. Although they are both economical and quality brands, more aquarium owners prefer Aqueon as they have a more satisfying experience with it.
One advantage of Aqueon over Marineland is the glass thickness. It has thicker glass compared to Marineland that lots of aquatic enthusiasts would prefer.
Aqueon also has a wider center base which makes it more sturdy. It also features quiet filters and pre-set heaters for some of its tanks. It is also cheaper compared to Marineland although they are both affordable.
As for Marineland's pros, some of its tanks are designed to be space savers. They are sleek and chic looking where some are created to hide filters for a more organized look.
One distinct difference between Aqueon and Marineland is their silicone – the former is using clear silicones while the latter has black silicones.
Yet, Aqueon has more pros especially when it comes to leaks. More end-users experienced having leaks with Marineland compared to Aqueon.
Another downside of Marineland is its LED lighting systems. Some people expressed their disappointment with its lighting system. They shared that it is not durable enough to last long which is opposing its advertisements.
How Thick Is the Glass Of Aqueon 40 Gallon Breeder Tanks?
The thickness of the glass panels of Aqueon 40 Gallon Breeder is 1/4 inch or 2.54 cm.
The thickness of Aqueon's tank glasses depends on the size of the tank. It is using only the most appropriate and economical thickness as too thick can just be a waste of money while too thin can jeopardize the quality as well as the safety of both the marine inhabitants and owners.
For an Aqueon 40 Gallon Breeder Aquarium, the thickness of its glass is 1/4 inch or 2.54 cm. This is actually the typical thickness even to a 55-gallon aquarium.
With the 1/4 inch glass, the Aqueon 40 Gallon Breeder is suitable for drilling since it is not tempered. It is ideal for reefs, freshwater, breeding, and a lot more.
Is Aqueon Better Than Tetra?
Yes, Aqueon is better than Tetra, specifically because it has a better filter system and glass quality.
It is quite hard to choose between Aqueon and Tetra since both of them are great brands offering comprehensive products that will satisfy the personal needs and preferences of every marine hobbyist.
Aqueon has quite a couple of advantages over Tetra. One is having a more suitable filter system.
Tetra Whisper Internal Power Filter is using a two-part filtration which only collects and eliminates wastes and debris. Its filter may also cause undesired noise even if it is designed to be quiet.
Meanwhile, Aqueon features a 5-Stage or 3-Stage Filtration System which is more effective when it comes to filtrating water. Aqueon also has a red light indicator if there is a blockage or when it is time to replace the cartridge.
When it comes to glass quality, Aqueon has thicker panels compared with Tetra. Other tank owners prefer this since it means being more durable for them.
Tetra has also experienced various concerns regarding leaks. Likewise, all of its panels are tempered which means you cannot do some drilling if you want holes.
Is Aqueon A Good Fish Tank Brand?
Aqueon is a good fish tank brand as it has proven its quality over the past years of its operations.
Aqueon was known as All Glass Aquariums before. Though its name has changed, its quality remains the same trusted quality.
Its tanks are designed by people who are enthusiastic about marine life. The brand has a slogan "It's all about the fish" so you can expect that it offers wide product variations of all you need to take care of your fish.
If you will search for feedback on Aqueon tanks, you will find lots of positive reviews about their quality, inclusions, and features.
Can Aqueon Tanks Be Drilled?
Aqueon tanks can be drilled if their panels or bottoms are non-tempered glass. Before making any drilling, make sure to check whether the part that you want to put holes into is tempered or not.
Aqueon is distinguished for making quality, full glass tanks.
The majority of its tanks' bottoms are made up of tempered glass, thus, you simply cannot drill as much as you want to. 
As for the panels, they could either be tempered or not so it is vital to always do your research and do not take any chances as your tank might just shatter into sharp pieces.
Tempered glass cannot be drilled as it is designed to be tough against any force and produce small fragments that are less dangerous once broken.
If you greatly desire to have holes in your Aqueon tanks, then you can place a special order for a non-tempered aquarium. If you do not want to do the drilling yourself, you can order customized pre-drilled tanks that have overflow systems (MegaFlow or Twin-Flow).
Currently, Central Aquatics are using tempered glass panels provisionally instead of non-tempered glass panels due to a shortage of glass. A sticker will be placed on the bottom part of the tank stating glass substitution, if ever, so customers will be cautious.
Are Aqueon 10 Gallon Tanks Tempered?
Aqueon 10 gallon tanks are not tempered as their panels are just made of regular glasses.
The Aqueon 10 gallon tank is ideal for both freshwater and ocean-dwelling creatures. It is not tempered rather made up of normal glasses which is perfect for drilling if you want some holes for your filters and other aquatic equipment.
It is a high-quality glass aquarium with silicone edges designed to be flexible to accommodate not only fishes and corals, rather even snakes, frogs, and lizards.
Are Aqueon 40 Gallon Breeders Tempered?
Aqueon 40 Gallon Breeders are not tempered. Their sides and bottoms are made of non-tempered glass.
The Aqueon 40 Gallon Breeders tank is designed to shelter various small to medium fish or marine reptiles.
Since these are the breeder's tanks, they have a wider bottom compared to other designs of Aqueon.
These aquariums are not tempered, thus, perfect for enthusiasts that like to have a community of small fish and need to do drillings for filters and other devices.
What Are The Most Popular Aqueon Aquariums?
Aqueon Filters
Aside from tanks, Aqueon is also offering various filters featuring efficient cleansing of water to be healthier and suitable to your fish and plants' wellness.
Aqueon filters are operating biologically, chemically, and mechanically for the effective removal of wastes and toxins in the water.
Based on your specific needs and preferences, Aqueon is merchandising different filters – from canister filters to internal filters, to hanging-on filters, and sump filters.
Are Aqueon Filters Loud?
No. Aqueon filters are not loud as they are designed to effectively do filtration with minimal to no sounds.
Aqueon filters are clarifying your tanks' water using several innovative methods. Aside from the effectiveness of these products, they are also tailored to work silently to tender the customers' desire of enjoying a peaceful home with no unwanted sounds.
If you are to hear a noise coming from Aqueon filters, it should just be the trickling water.
Do not get easily disappointed or annoyed if your new Aqueon filter is loud at first. Be a little patient and give it some time to settle down. If your filter is not new, some maintenance may be needed if the noise persists.
Why Is My Aqueon QuietFlow Filter So Loud?
Your Aqueon QuietFlow filter is so loud whether because the water level is not high enough, there is a blockage, some cleaning is needed, or when the mechanical parts inside are starting to break.
One of the common reasons why the Aqueon QuietFlow filter is making a loud sound is the water level.
This is usually overlooked by aquarium owners as they are not fully aware of the importance of the amount of water. Basically, if the water is not high enough, your filter will be noisy.
Stuck fragments like debris or small stones will be a blockage to your filter and shall also cause unwanted sounds or reverberation.
Loud sounds are also an indicator that your filter needs the regular maintenance that you must be doing. Routine cleaning may be needed or some greasing to the impeller.
Lastly, the undesired and disturbing noise may be generated by some internal malfunctions. Some mechanical parts may have cracks or even big damage that you need to replace.
Why Is My Aqueon Filter Not Working
Usually, your Aqueon filter is not working due to clogging. To fix this issue, you simply need to clean it – its impellers, tubes, motor.
Your Aqueon filter may suddenly stop due to a couple of reasons. And one of the most common is because of some blockage or dirt.
It is highly important to do regular maintenance to your filter to prevent such unexpected operation breakdowns.
Your filter may stop working if its impellers are stuck. This can simply be fixed with regular scrubbing together with other components. Do not forget to wash up the hole that the impellers are attached to.
Uptake tubes may also be gunked up so may want to clean them with a pipe cleaner or other cleaning equipment.
The motor should be taken off and clean as well. You may gently to it to remove the debris on it.
The connections inside the filter should be inspected too to make sure they are tightly put together.
What Are The Most Popular Aqueon Filters?
The top three most popular Aqueon filters are:
Aqueon Quietflow E Internal Power Filter – $12.99 to $69.98
Aqueon QuietFlow LED PRO Aquarium Power Filters – $17 to $50
Aqueon QuietFlow Canister Filter – $118 to $157
References:
Barrington, K. (2020, February 14). The best fish tanks and accessories for beginners. Business Insider. https://www.businessinsider.com/best-fish-tank
Hauter, S., & Hauter, D. (2020). Know these calculations when building a glass aquarium. The Spruce Pets. https://www.thesprucepets.com/diy-glass-aquarium-building-tips-2924663
Related Article: