With numerous high-quality saddle brands in the market, you might be having a dilemma of what to choose.
The Circle Y is included in the list of the top saddle brands. You can read and hear both positive and negative feedback about it.
So, what is the real deal? With Circle Y Saddle carrying a price tag, is it worth buying?
Are Circle Y Saddles Any Good?
Yes. Circle Y Saddles are assuredly good as they are recognized to be of high quality, innovative, and comfortable to use.
Circle Y Saddles Inc. is one of the reputable companies when it comes to saddles that continuously developed over years to meet market demands. It is actually a leading brand in the United States.
It is a pioneer in saddle making and commemorated its 60 years of operation last 2020. The company's story began in 1960 in a simple village in Yoakum, Texas.
It just started with a few product lines but successfully built a strong brand due to the finest quality of its saddles.
Aside from quality, the company ensures to offer appealing products with innovative designs that will surely catch the attention of its target market.
Likewise, as per the customers' feedback, Circle Y Saddles also succeed in providing the right fit and comfortability for both the riders and the horses.
What's more remarkable about Circle Y is its humble and sensible nature that despite what it has become, it is still crafting quality saddles in its first home in Yoakum, Texas.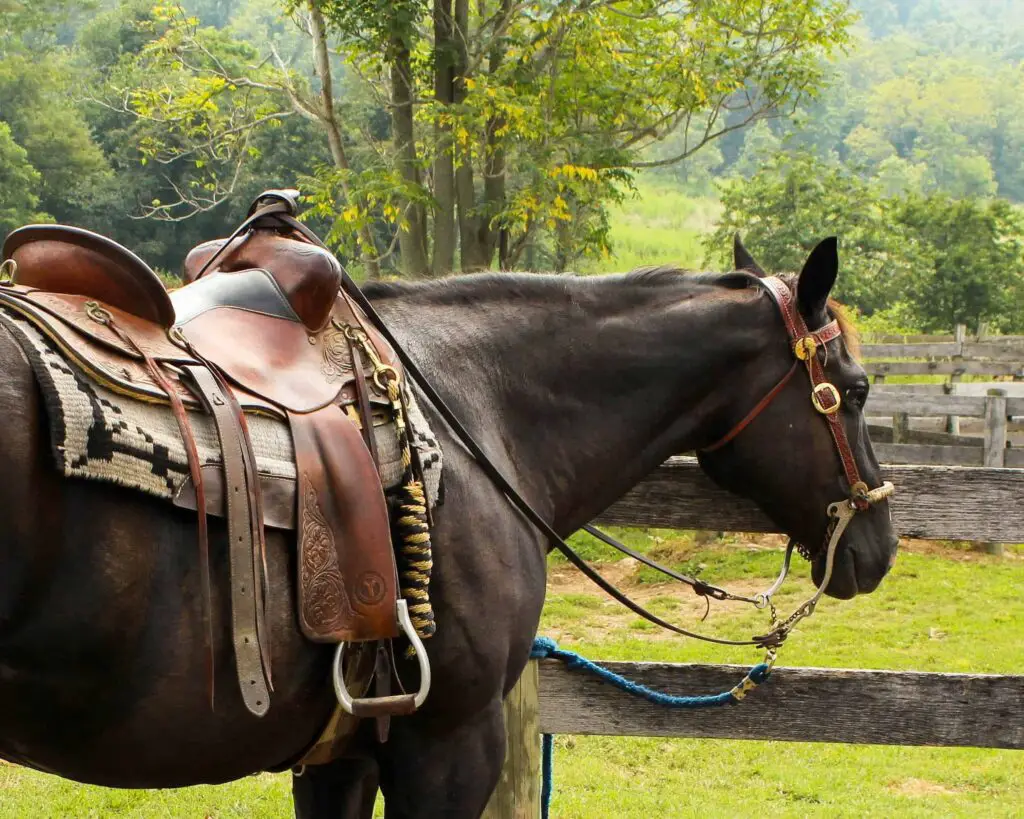 How Good Are Circle Y Saddles?
Pros
The pros of Circle Y Saddles are its high-quality materials, designs that can fit on different horses, a wide range of products that also cover western disciplines, and the experienced group of craftsmen creating all the products.
One of the major advantages of Circle Y Saddles is the high-quality materials used to craft each product.
One proof of quality material is the Circle Y Softee™ leather. This leather is used specifically for some seat jockeys and fenders. This type of specialized leather helps in the reduction of strains to the knee and ankle of riders. This promises a "ready to ride feel" to the riders.
Another advantage of Circle Y is its innovative and flexible design that can fit in a variety of horses.
The brand is using a Flex-Lite tree design, that is patented, to tailor products that will make riders feel that their saddles are specially designed for their needs. The Flex-Lite tree is flexible and lightweight that will surely provide great comfort to riders and horses.
The wide range of products that even cover western disciplines is another edge of Circle Y Saddles. Whatever your riding activities are, there will be a perfect saddle that will suit your needs.
Lastly, behind every great quality product are top-notch workers meticulously doing the tailoring. Circle Y has proven the competencies of its craftsmen through durable, innovative, stylish, and safe saddles.
Cons
One of the major cons of Circle Y Saddles is its expensive price.
Just like any other quality saddles, the expensive price of products is a disadvantage of Circle Y Saddles over its competitors in the industry.
The price of the saddles is so expensive that you should consider it as an investment.
Some riders would love to own a Circle Y Saddles, but they simply could not afford one so they would just settle on those budget saddles.
How Much Are Circle Y Saddles?
Circle Y Saddles are quite expensive starting from $1,799 up to $7,750.
With great quality comes a high price too! So, don't expect Circle Y Saddles to be a choice when you are looking for an affordable saddle.
Saddles like those of the Circle Y are definitely an investment since they cost a fortune already, costing between $1,799 to $7,750.
The cost of producing a Circle Y saddle is definitely not cheap because it is made of patented Flex-lite tree design and special leather with the help of skilled craftsmen.
Are Old Saddles Worth Money?
Yes, old saddles are worth money. Depending on their condition and specifications, you can sell an old Circle Y Saddle for $250 to $900.
Some might think that old saddles are no longer of great value, but they are extremely wrong!
As long as they are well taken care of and still in great condition, old saddles are still good for riding purposes and even as collector items!
There are even some comments from previous customers of Circle Y Saddles that saddles before are better compared to the present ones when it comes to quality.
The worth of an old Circle Y Saddle would depend on its condition, seat size, tree size and style, and of course, age. Considering these bases, an old saddle can be sold from $250 to $900.
Circle Y Saddles are known to be tailored well to be lasting; thus, horse owners and riders who are familiar with the brand would definitely show interest in becoming the new owner of your old saddle.
How Much Is My Circle Y Saddle Worth?
Your used Circle Y Saddle may be worth between $625 up to $3,300 depending on its condition, age, and style.
Are you planning to sell your Circle Y Saddle due to various reasons? Perhaps, it did not fit you and your horse perfectly? Or, it may have been outgrown by your horse?
Whatever your reasons are, your concern will surely be about the worth of your pre-owned saddle. You want to know how much you can sell it, both at the minimum and the maximum amount.
Well, Circle Y Saddles are expensive so you can trade your used saddles at a high price as well.
The factors to consider when pricing your saddle are its condition, age, and its style.
If your saddle is in excellent or almost new condition, just a couple of years old, and is one of the most expensive due to its style and size, then you can sell it at a high price. Perhaps, more than half of the original price.
But if your saddle is the opposite of the mentioned considerations, then don't expect to get a lot of money from it. 
Are There Fake Circle Y Saddles?
There are no fake Circle Y Saddles reported yet. You can always check the serial number of your saddle to know more about its authenticity and other details.
Just like other saddle brands, Circle Y has unique serial numbers for every saddle that it manufactures and sells to its customers.
There have been no reports yet regarding fake Circle Y Saddles.
If you want to know the specific details about your saddle, you can look for its serial number which is usually located on a leather strap or silver plate. You can find it under the mounting side of your Circle Y Saddle.
The serial number tells you your saddle's model number, seat size, color, and the width of the tree.
Aside from the serial number, you can also find the manufacturing date and the special number only for your saddle on the plate.
Reading your saddle's serial number might be a little challenging for you.
So, if you want to know your saddle's details quickly with no sweat, you can just type the serial number on the simple tool in this link:
https://www.horsesaddleshop.com/circle-y-serial-numbers.html
Circle Y VS Billy Cook Saddles
Circle Y and Billy Saddles can be compared when it comes to their quality, product offering, and prices.
Both Circle Y and Billy Cook have gained a positive reputation when it comes to saddle products. They are both operating long enough in the industry to be recognized by the market.
Both are known to be making high-quality saddles with the help of innovative craftsmanship.
When it comes to products, both produce lots of designs and sizes for specific riding activities. However, Circle Y offers more variety.
As for the price, both brands are not the kind of affordable saddles that can be bought if you are on a budget. However, Circle Y Saddles are more expensive compared to Billy Cook Saddles.
Circle Y Regular VS Wide Tree
Circle Y regular tree is recommended for horses with defined wither while the wide tree is suitable for horses with rounded wither.
When it comes to the regular tree and wide tree, there are no specific regulations in the industry yet regarding the size.
Thus, you can find different sizes of trees from different saddle brands. Basically, the fit will not be identical for all so it is necessary to take note of the specific size that you need for your horse.
The Circle Y Regular Tree will be perfect for normal-withered horses.
With a well-defined wither, it would be easy to place the saddle on your horse without the need for any excessive adjustment or binding of the front girth. Thus, a regular tree would do just fine with this wither.
As for the Wide Tree, it is suitable for horses with rounded wither and foundation build. A broader tree is required as the round wither needs a better setup for more pressure to better place the saddle on the horse's back. 
What Are The Most Popular Circle Y Saddles?
The most popular and best seller Circle Y Saddles are the following:
Julie Goodnight Monarch Saddle 1752 – $2,750.00
Julie Goodnight Wind River Flex2 Trail Saddle 1750 – $2,750.00
Walnut Grove Flex2 Trail Saddle 1157 – $2,350.00
14″ to 17″ Alpine Flex2 Trail Saddle 2377 – $2,099.00
15″ to 17″ Lady Trail Flex2 Saddle – $2,040.00
Omaha Flex2 Trail Saddle 1554 – $2,099.00
Circle Y Topeka Trail Saddle Flex2 1651 – $2,099.00
14″ to 17″ Julie Goodnight Blue Ridge Flex2 Trail Saddle – $2,615.00
14″ to 17″ Alabama Flex2 Trail Gaiter Saddle 1581 – $2,099.00
13″ to 17″ Kelly Kaminski Blaze Flex2 Barrel 1528 – $2,330.00
Which Circle Y Saddles Are Cheap?
Circle Y Saddles are not cheap, but the lowest priced ones are the 1439 Roughout Trainer Training Saddle ($1,799), 1651 Topeka Flex2® Trail Saddle ($1,999), and 1554 Omaha Flex2® ($1,999).
Circle Y Saddles are not one of those budget saddles that you can find over the Internet or different distributors.
These are quite expensive that even a used one still costs a lot. The price of a pre-owned Circle Y saddle can be the same with brand new saddles of other low-cost brands.
One of the cheapest saddles of Circle Y is the 1439 Roughout Trainer which is a training saddle and costs $1,7999.
Other lowest-priced saddles are the brand's trail saddles. These are the 1651 Topeka Flex2® Trail Saddle that costs $1,999 and the 1554 Omaha Flex2® that is priced at $1,999.
Has Circle Y Made Any Recalls?
Circle Y has not made any recalls for any of its products yet. However, a very small number of customers requested a return and exchange of their saddles that were not in good quality or had damages.
With over 60 years of operation, Circle Y has not experienced any product recalls yet.
According to the company's website, it is committed to only crafting products for both riders and horses that are safe, comfortable, and of great quality. Its team is allotting a lot of effort and resources for the designs and testing of its products.
It is assuring that any product recall will be addressed immediately and the customers will be informed directly. Customers can return any recalled products and will surely get a replacement.
There were some instances when customers experienced problems with their Circle Y Saddles and the company quickly responded and replaced them with new ones.
References:
American Society for Quality. (2021). What is a product recall? Excellence Through Quality | ASQ. https://asq.org/quality-resources/recalls
Billy Cook Harness & Saddle Manufacturing, Inc. (2021, April 29). Our story. https://genuinebillycook.com/our-story/
Circle Y Saddles, Inc. (2021). Help Center. Circle Y of Yoakum. https://circley.com/knowledge-base/
Circle Y Saddles, Inc. (2021). How do I read my serial number? Circle Y of Yoakum. https://circley.com/knowledge-base/how-do-i-read-my-serial-number/
Related Articles:
Are Antares Saddles Good? How Good? 5 Things You Should Know