You might have heard of CWD Saddles, a french brand that is famous among champion racers in the equine industry.
Aside from the quality products that offer stability and comfort, the brand is recognized for its price as it is quite expensive.
Are CWD Saddles really good? Are they worth it to buy based on their features? How much do they actually cost?
Are CWD Saddles Good?
Yes. CWD Saddles are good as they are known to be high-end performance saddles that are to last a lifetime.
CWD is a French saddle manufacturer that is famous among international champions, professional riders, and even aspiring amateurs.
It is best recognized to be a top maker of jump saddles, contact saddles, dressage saddles, and various equine accessories.
Its saddles are good as they are made of authentic leather and tailored to be highly durable. These are made to last as long as properly maintained.
CWD Saddles are also known for having no-slip, are breathable, and can fit a variety of horses. Additionally, the chance of customization is highly favorable for the clients to truly achieve the look that they prefer for their saddles.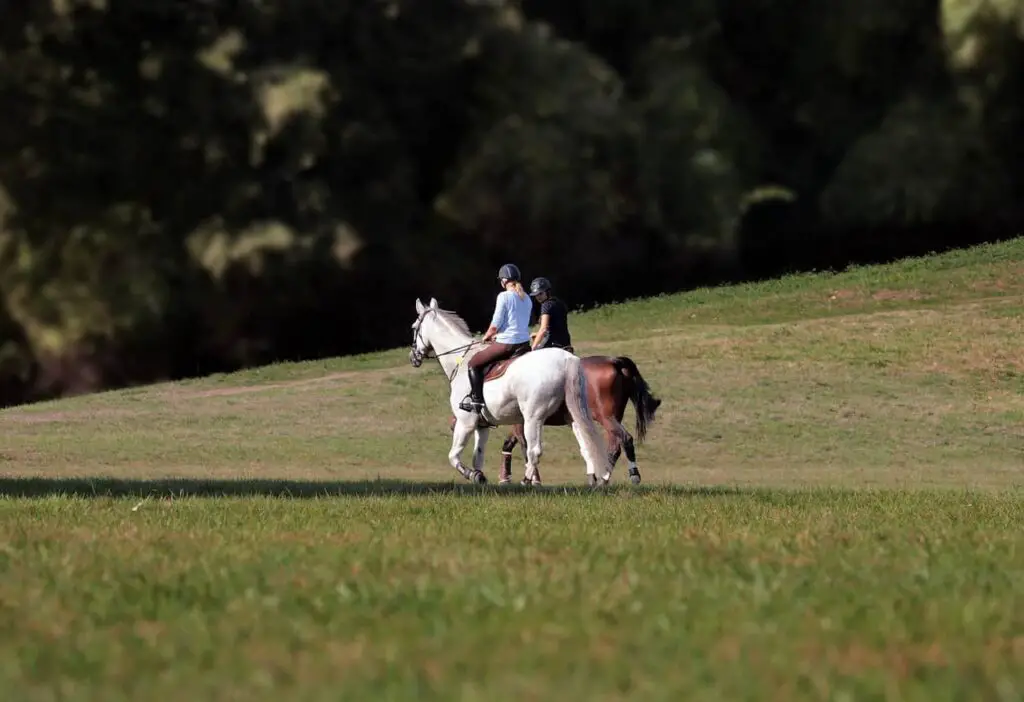 How Good Are CWD Saddles?
Pros
The advantages of CWD Saddles are its quality, sustainable process, innovative features, customizable offers, and focused customer service. 
There is no doubt CWD is recognized for its high-quality products worldwide.
It is using locally sourced premium leather and promoting animal welfare as it collaborates with 24 farms in Dordogne. For tanning leathers (hard and soft), the company is using 100% vegetable tannins.
The packaging is also designed not to defile the environment as it is 100% recyclable. The same packaging can be used again for return and repair. 
Each of its saddles is hand-made with skilled craftsmen with great enthusiasm and attention to every detail.
When it comes to innovation, CWD is also very proactive and a pioneer.
In 2002, it launched the 2Gs® technical saddles which are featured in its Dynamick®  Saddles. These saddles are combined with innovation and quality materials to ensure comfortability and durability. These are definitely game-changers due to their function, flexibility, and power.
Some of its saddles also feature a three-point girthing system. This system ensures the right balance and fit of the saddle to equally disperse the pressure on the horse's back.
Another advantage of CWD is the offering of customization. You can customize your saddle according to the color and finishing that you want.
Compared to other saddle brands, CWD is known for its focused customer service as well.
Some of its sales representatives are even trained in France to have hands-on experience with the saddles that they will be promoting and selling. They are prepared to provide full assistance to the clients with all their concerns to find the most suitable CWD saddles for them.
Cons
The drawbacks of CWD Saddles are the expensive price and limited distribution.
As expected, high quality and reputable brands are expensively priced which is true with CWD Saddles.
These saddles are extremely costly that they would cost a fortune for some average-income individuals.
Those who are only deeply devoted to their horses and equine activities are set to purchase this brand. They are usually professionals in the equine world that highly invest in their passion.
That is why it is also recommended to consider buying used or pre-owned CWD if you certainly want to experience this saddle.
Another con of these saddles is the limited distribution.
Unlike other brands that can be easily found on various websites, you can only buy brand new CWD saddles on its official website.
You can only see used or pre-owned CWD saddles on other online shops offering equipment for horses. The brand has no direct distributors, unlike other affordable and expensive saddles.
Are CWD Saddles Worth The Money?
Yes, CWD Saddles are worth the money as these are proven to be of high quality, even the best riders around the world trust and use this brand.
As a renowned international brand in the equine industry, CWD is proven to be worth the money.
With its authentic leathers that are locally outsourced, to the hands-on crafting of each saddle that is innovatively designed, to the customization up to the exceptional customer service, the CWD saddle is worth paying a great sum of money, for sure!
CWD has established its products' durability and comfort that even riders in the Olympic games are using its saddles.
Fascinatingly, 7 out of 10 top riders around the world are using CWD saddles and equipment.
You know for sure that a product is guaranteed if professionals are using it too!
How Do CWD Saddles Fit?
CWD Saddles fit comfortably if you can fit 2 to 3 fingers on the withers' top and side parts.
One of CWD Saddles' top priorities is to make sure horses are comfortable having the saddle on their back.
A saddle that is suitable for other horses might not be appropriate for your horse.
To make sure that the CWD saddle that you are eyeing is perfect for you and your horse, you should check its fit and try it first hand first.
There should be a 2 to 3 fingers allowance on the withers' top and side parts. It is necessary to ensure that the saddle will fit your horse's withers.
These spaces are important so your horse can have free movements and prevent contractions of the saddle and its skin.
It is important to note that every horse is different and has its own special needs. Just like for the withers, some have flat and round while some have high and narrow ones.
What's necessary is for you and your horse to feel relaxed and not in any way constrained once you mount on it while on the saddle. 
Are CWD Saddles Adjustable?
Yes. CWD Saddles are adjustable but you need a skilled saddle maker to do the adjustment.
Unlike other saddles, you cannot adjust CWD Saddles on your own.
It would be best to get the service of a skilled individual to also prevent damaging the expensive seat.
But no need to worry as CWD is offering adjustments for your saddles if they do not fit you and your horse perfectly.
The company's team of artisan saddle makers is ready to assist clients wanting to adjust or repair their saddles; they will check and fix the seats in their workshops.
Where Are CWD Saddles Made?
CWD Saddles are made in France as it is a premium French brand.
CWD was established in 1998 and has been a superior company since then when it comes to saddles and other equine equipment made of leather.
The French State granted CWD the label of Excellence of French Know-How (Entreprise du Patrimoine Vivant, or EVP) which basically acknowledged the company's distinction of the traditional and industrial know-how.
The company is a renowned and fast-growing saddle brand not only in France, rather in other parts of Europe and even in the United States. In 2002 and 2011, CWD penetrated the markets of the USA and Germany respectively.
If a saddle carries a stamp "Made in France", you can say that it is of superior quality as each detail and development are meticulously planned.
How Much Do CWD Saddles Cost?
CWD Saddles cost from $5,580 to $8,250 based on materials used (quality), types, customization, and manufacturing date.
CWD is known to be one of the most expensive saddle brands – and you may wonder why.
Well, CWD has established a highly reputable name when it comes to quality saddles.
It is recognized to be using only high-quality materials for its products, making them quite costly. Genuine durable materials do not come at a bargain price, of course.
CWD is offering various finishes for its products such as grain calf, full calf, grain buffalo, and full buffalo.
The types of saddles also affect the costs of the seat. CWD has four models of saddles – Dynamick®  Saddles, Classic Saddles, Dressage Saddles, and Cross Saddles.
The most affordable CWD Saddles, which are brand new, cost $5,580. These are the Classic Saddles specifically the Flat Seat Saddle, Semi-Deep Seat Saddle, and Close Contact Saddle.
As for the most expensive, it is a Dynamick® Saddle priced at $8,250 which is the 2Gs Hunter Mademoiselle®.
What makes CWD more expensive is also the fact that you can customize the color, finishing, and carbon of your saddle.
If you wish to modify the panels of your saddles, you can by paying roughly $300. But if you want a new panel, it will cost you approximately $600.
The features of its innovative products (2Gs technical saddles) also impact their value even more.
Likewise, the manufacturing date affects the market price of CWD saddles. Basically, the more recently made and newer designs the saddles, the more expensive they can be. 
Are CWD Saddles Bad For Horse Backs?
No. CWD Saddles are not bad for horses' backs as these are specifically tailored to adapt to the equines' physical structure. The saddles are designed combining new technologies and systems that ensures proper fit to avoid any backpressure and achieve more free movements.
The riders' comfortability and safety are equally important as for horses when you are searching for the right saddle.
If your horse is not a match for a specific saddle, expect that you will not ideally fit and be relaxed riding on it as well.
Each saddle model of CWD is precisely planned and produced to fit every horse depending on the kind of equine activity where it will be used.
For Dynamick®  Saddles, their trees have a wide opening to help horses achieve free movements when jumping. The 2Gs® of Dynamick®  saddles are combined with innovation and quality materials to ensure comfortability and durability.
As for the design of classic saddles, they are crafted to achieve a full-contact panel with the back of horses. This prevents any stress or tension points on the transverse spinal process.
This model features a three-point girthing system to ensure the right balance and fit of the saddle to equally disperse the pressure on the horse's back.
As for dressage saddles and cross country saddles, they share similar points of having wide concave panels to achieve better pressure dispersal of saddles on the back of the horses.
What Are The Most Popular CWD Saddles?
The most popular CWD Saddles are its Classic Saddle Models.
Flat seat saddle (SE01) = from US$ 5,580
Semi-deep seat saddle (SE02) = from US$ 5,580
Close contact saddle (SE03) = from US$ 5,580
Classic kid saddle (SE10) = from US$ 6,580
Aside from the Classic Saddles, other models also have a fair share in market awareness and sales.
Dynamick® Saddles:
2Gs® semi-deep seat (SE25) = from US$ 7,290
2Gs® flat seat (SE26) = from US$ 7,290
2Gs Mademoiselle® (SE32) = from US$ 8,180
2Gs® Kid (SE33) = from US$ 7,290
2Gs Hunter Mademoiselle® (SE38) = from US$ 8,250
Dressage Saddles:
Dressage saddle German influence (SE08) = from US$ 6,580
Semi-deep seat dressage saddle (SE24) = from US$ 6,580
Deep Seat Dressage Saddle (SE37) = from US$ 6,580
Cross Country Saddles:
Flat seat mono-flap saddle (SE04) = from US$ 6,580
Semi-deep seat mono-flap saddle (SE09) = from US$ 6,580
Flat seat cross country saddle (SE12) = from US$ 6,580
References:
CWD Sellier. (2021). Saddles. https://north-america.cwdsellier.com/en/12-saddles
Horse Market. (2021). CWD. https://horsemarket.lt/en/brand/cwda
Related Article: