When picking the perfect saddle for you, two of the major considerations are price and quality.
Are you after a high-quality saddle regardless of the price? Or, are you on a tight budget and aiming to find a reliable saddle at a cheap price?
Well, if you are the latter, you might consider Hilason Saddles as these are known for their affordability. But aside from the low cost, what else should you know about this brand? Is it good enough?
Are Hilason Saddles Good?
Hilason saddles are not recognized to be of high quality. Nevertheless, it is a good bargain for its affordable price.
Hilason Saddles are under Saddlery Incorporation which is headquartered in Texas, United States. The incorporation strives to recreate products that were previously popular but almost forgotten nowadays.
It is known for manufacturing wide varieties of Western and English saddles particularly specializing in Treeless Saddles, Parade Saddles, and Side Saddles.
However, despite the many years of producing and promoting different products, the Hilason brand is not able to establish its brand as a quality and reliable one, particularly its saddles.
If you will consider getting a Hilason Saddle, you will not be able to find and read a lot of reviews about it on the Internet.
If luckily you come across feedback, you will usually see negative comments regarding its quality. Due to some poorly made saddles, some are doubtful of their safety.
Many are saying that Hilason already stepped up its game over the past years, yet they are still not recognized in the market when it comes to durability and style, rather for their cheap price only.
Nevertheless, Hilson Saddles are a good deal given that it is very affordable. It is a fair bargain if you are on a budget and looking for a saddle that can assist you with your rides for a short span of time or if you just rarely ride on your horse.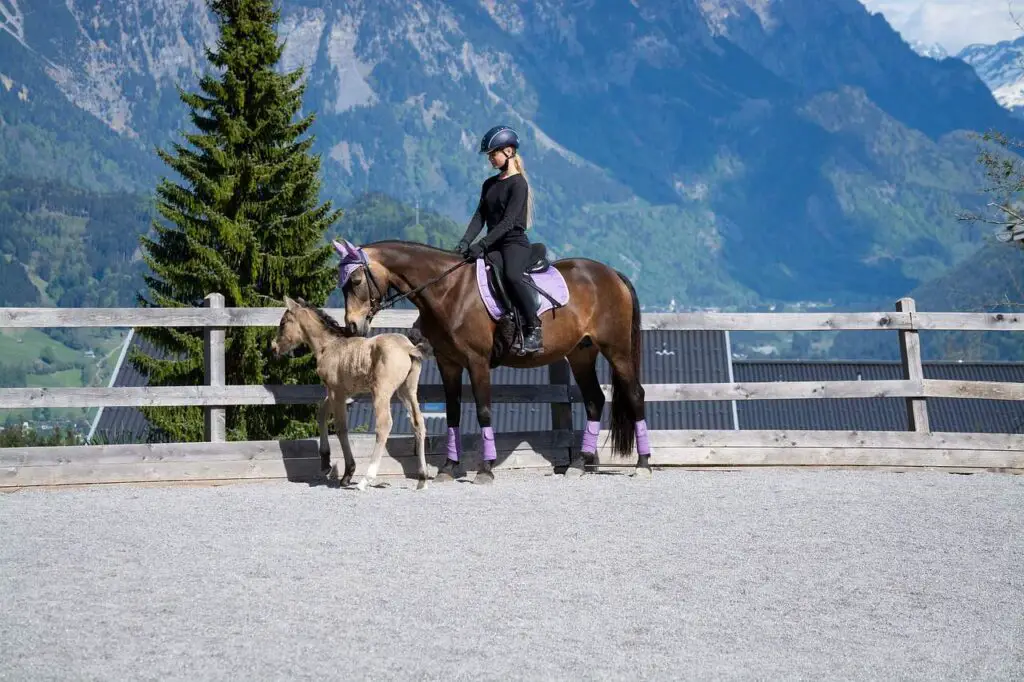 How Good Are Hilason Saddles
Advantages
The pros of Hilson Saddles are the wide product varieties and cheap prices.
As you choose your new saddle, it is important to consider the kind of work that you and your horse will be doing while using the seat.
There are lots of saddle variations that will surely be suitable for every unique equine activity. You may need different saddles if you and your horse are doing different types of riding.
So, if you are looking for a brand with extensive products, Hilason is one of the suggestions for you. It has three subcategories based on the kind of activities that you will do as well as the materials and styles you wish for your new seat.
Its three subcategories include Flex Tree Saddles, Tree Saddles, and Treeless Saddles.
Under Flex Tree Saddles, you can get seats for barrel racing, likewise for trail and pleasure riding. These saddles are all handmade using high-quality authentic leather.
For Tree Saddles, you can choose saddles for barrel racing, trick riding, show and trail riding, and wade and roping. Under this subcategory, cutter, draft saddle, gaited, and bronc saddles are also included. These saddles are specifically tailored for heavy works and are manufactured using strong fiber trees.
Lastly, Treeless Saddles are composed of English Treeless Saddles, Western Treeless saddles, and Spanish Treeless saddles. These saddles are used for barrel racing, trail riding, and endurance riding.
Aside from the wide product classifications, the affordable price is one big edge of Hilason Saddles over the competitors.
Hilason Saddles are definitely way much cheaper compared to other brands in the market.
You can buy a Hilason Saddle for as low as $134.95 (12 In Kids Youth Children Miniature Pony Saddle) and as expensive as 2,4999.99 (16 in Wide Bar 7 in Circle Y Tallgrass Wood Trail Saddle).
The usual price of Hilason Saddles would be around $400 to $600. These prices are definitely lower than reputable, high-quality saddle brands which are commonly priced at $2,800 to $7,100. What a very big difference, right?
Disadvantages
The cons of Hilason Saddles are their poor quality and outdated design.
If you are buying products at cheap prices, you should typically not expect great quality that will really amaze you. Of course, with cheap costs comes not-so-good quality as well.
Although Hilason is telling that their products are made from premium quality authentic leather, some customers expressed their dissatisfaction with their saddles.
Some shared that the leathers are a good deal for the price but some claimed that theirs are hard as cardboard and painted or tanned poorly.
As for the tree, some customers find it very weak and light. It looks like it is not made out of hard and durable quality wood. If a saddle doesn't have a good tree, then it is ineffective.
Another shortcoming of Hilason Saddles is the design. Some of the saddles are not enticing to customers as they are outdated or not innovative enough to accommodate their needs.
Ultimately, this poor-quality saddle can endanger the safety of the riders which affects the perception of the customers towards the worthiness of the product.
Is Hilason A Good Saddle Brand?
Hilason is a decent saddle brand in comparison to its price since it is very affordable. However, it is not a great product when it comes to quality.
If you are looking for a very affordable saddle brand that offers a wide product range, you can definitely consider Hilason Saddles.
Hilason is a good saddle brand as per its price. You can choose from a lot of designs based on your riding activity as well as your funds.
Hilason Saddles are made of premium leather and are crafted to equally distribute the rider's weight. Their designs enable horses to run faster, move freely, quickly, and maintain their energy for a prolonged time. The comfortability of both the rider and the horse is one of the utmost objectives.
Yet, Hilason Saddles are not able to fully serve these promises as per the feedback of the customer. Fitting and comfort are actually not met as some customers need to make adjustments and even use quality saddle pads to have a relaxed ride.
Hilason Saddles are recommended for those who are not capable of buying top-notch saddles but still want to own a decent seat for their daily rides for quite some time.
But if you are looking for a quality saddle that will really last for many years but on a budget, it is suggested to consider purchasing pre-owned saddles of famous brands that are still in good condition. Or, you can save a little more to be able to buy a brand new one from an affordable yet quality saddle brand.
Where Are Hilason Saddles Made?
Hilason saddles are made in Stafford, Texas, United States.
Hilason is under the management of Saddlery Incorporation. It is currently headquartered in Stafford, Texas in the United States of America.
Thus, Hilason saddles are manufactured in in-house factories in Texas. Other procedures that are yet to be expedited in the plants are being outsourced to other reputable firms in the industry.
Saddlery Incorporation is a part of the Miscellaneous Nondurable Goods Merchant Wholesalers Industry. It has also expanded its operations in Australia, Canada, and the United Kingdom.
Aside from Hilason, the incorporation is also operating in the United States under the business name Tackxas Saddle & Leather Superstore at present.
Best Hilason Saddles
Flex Tree Western Horse Saddle American Leather Trail ($579.95)
This flex tree saddle is made of premium quality American cowhide skirting leather.
It is available in sizes 15″ to 19″. It has a smooth leather seat, front and rear cinch straps, and weighs around 12.7 kilograms.
Horse Bronc Saddle Hilason Classic Series Rodeo American Leather ($595.99)
This bronc saddle is made out of high-quality American cowhide skirting leather. It is color tan and available in sizes 16″ to 17″ only.
Its tree is built from a durable wooden tree with a rawhide covering. As for fittings, it has solid stainless steel and synthetic wool as the base.
Hilason Western Leather Barrel Racing Trail Pleasure Riding Horse Saddle ($579.95)
This saddle is crafted using a highly durable saddle tree which is specialized for heavy-duty activities.
It has a stainless steel rigging system and is usually used on Barrel Racing Trail as well as Endurance riding.
The seat is meant to offer strong grip and support. The fenders are also crafted to provide the rider a great balanced position.
Hilason Custom Designed Rare Western Trick Riding Saddle ($694.95)
This saddle has a white color, a square skirt, and a base made of quality synthetic wool.
Its leather seat is smooth and has a horn measuring 6 inches. For the extras, it has a hippodrome strap, and stirrups, matching fenders.
17 In Western Horse Saddle Leather Cowboy Trail Ranch Roping Tan Hilason ($699.95)
This saddle is made from premium thick genuine skirting leather and is only available in size 16″.
It weighs 15.4 kilograms and has a skirt length of 27 inches. It has a 16-inch leather seat and 7 inches gullet.
Included in its package are front and rear leather straps, a leather girth, and a leather horn wrap.
Hilason Western Horse Treeless Trail Barrel Saddle American Leather ($594.95)
This saddle is made of quality American cowhide skirting leather and is available from sizes 13″ to 18″. It has a rough leather seat and weighs approximately 9.5 kilograms.
It has a hand-tooled floral design, a 5-inch cantle, and a skirt length of 23 inches.
16 in Wide Bar 7 in Circle Y Tallgrass Wood Trail Saddle Chestnut ($2,499.99)
This classic wood trail saddle is the most expensive saddle of Hilson. It is 6 inches, has a 7-inch wide bar, and is lighter compared to other saddles.
It has innovative cuts and appealing border tooling. It has an Impact Foam seat, neo-shock skirts, softee jockeys and fenders, and tunnel skirts to ensure great comfort for both the rider and the horse.
References:
Hilason. (2021). Saddles. Hilason Saddles & Tack Superstore. https://hilason.com/collections/saddles
Related Articles:
Are Antares Saddles Good? How Good? 5 Things you should know