If you are a new horse owner, you might be surprised to know about synthetic saddles since premium authentic leather saddles are the most commonly used everywhere.
Wintec is the first to manufacture synthetic saddles, making it the leading brand today in the market.
Since these synthetic seats are becoming popular, what's the real deal about them? How good are they and how long do they last? What are their special features and what are the best Wintec Saddles?
Are Wintec Saddles Good?
Yes. Wintec Saddles are good since they are durable, easy to maintain, can be personalized, adjustable, and not pricey.
Wintec Saddles are of good quality with innovative features that come at a modest price.
The brand's satisfied customers remarked the saddle products as an ideal combination of comfort and practicality.
The saddles are low maintenance so it is perfect for those who are on a budget and do not have enough time to clean their saddles regularly.
Another thing that the customers love about Wintec is its adjustable gullet system and you can personalize your saddles with colored stirrup keepers.
Wintec is offering decent saddles with cutting-edge designs and good quality that everyone can afford.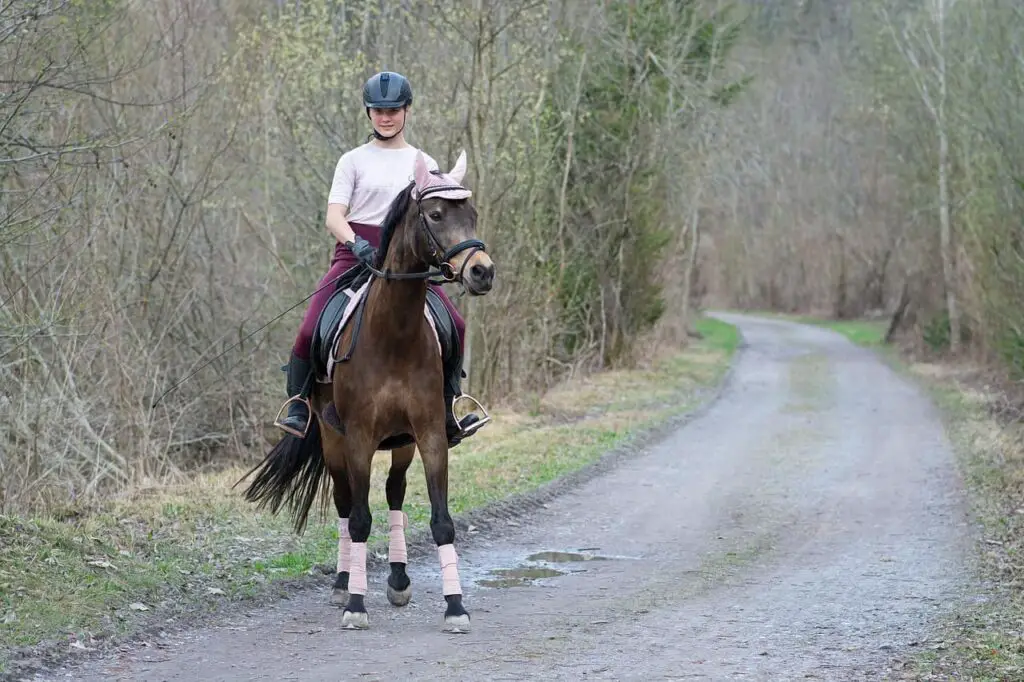 How Good Are Wintec Saddles?
Pros
The advantages of Wintec Saddles are its high-quality synthetic saddles that are weatherproof, easy to clean, and very affordable that features its special Horse and Rider Technology (HART).
One major asset of Wintec is being the pioneer when it comes to manufacturing synthetic saddles that are perfect for the needs of the riders and horses.
These synthetic saddles are highly durable that they can last for so many years. Though may not endure a lifetime, these saddles are recognized for their great benefits in the equine world.
The high-quality materials used on each Wintec Saddle also make it weatherproof where it is not easily damaged by too much hot or cold temperature. It is also easy to clean and dry as you basically need to do some regular wiping and it will be as good as new (low maintenance).
Since they are not authentic leather, Wintec Saddles are also very affordable.
Likewise, one big advantage of Wintec is its Horse and Rider Technology (HART).
Through the HART, Wintec Saddles are featuring a protective cushioning specifically known as CAIR® Cushion System. Saddles are also tailored with the help of Easy-Change Fit Solution.
Elastiflex Tree is also used to achieve an ergonomic flex to ensure saddles will not have any breakage and last for many years.
HART also emphasizes the performance panel technology as well as the comfort seat technology to ensure both riders and horses will have free movements and excellent performance.
Cons
The cons of Wintec Saddles are its slippery feeling, showing signs of deterioration over time, and its less traditional style.
Since Wintec Saddles are made of synthetic leather (Equi-Leather and Equi-Fabric) that has a smooth finish, a high possibility of a slippery feeling or less grip while sitting can happen.
On the contrary, riders may feel too grippy if Equi-Suede is used to craft a saddle. This is not advisable especially during jumping activities where they need to move freely.
Another drawback of Wintec Saddles is the unpreventable signs of deterioration over time such as cracking or peeling of materials used.
Lastly, since Wintec is a synthetic brand of the saddle, it does not possess a prestige aura that comes with authentic leather saddles.
These saddles are less traditional, thus some are not drawn to buy and try them.
Is Wintec A Good Saddle Brand?
Yes, Wintec is a good saddle brand with a good reputation.
Wintec, a saddle manufacturer headquartered in Australia, is very prominent for pioneering the first synthetic saddles.
Since it started offering its products in the market, it has gained a good reputation, high brand awareness, and fair market share.
Its synthetic saddles are a game-changer in the equine world which offers almost a similar outstanding performance and perfect fit for riders and horses.
The synthetic saddles of Wintec are known to be lightweight, easy to maintain, weatherproof, and very affordable compared to other leader saddle brands.
Are Wintec English Saddles Good?
Yes, Wintec English Saddles are good as these are quality synthetic saddles with cutting-edge designs that offer a great fit, comfort, and are highly durable.
Wintec is offering a wide range of English saddles that accommodate the needs of the riders. Various synthetic English saddles that Wintec features are the all purpose saddles, close contact saddles, and even dressage saddles.
According to the feedback of the customers, Wintec English Saddles are quite affordable, well-made, and amazingly comfortable.
The saddles are innovative, appealing, and crafted to last for many years.
How Long Do Wintec Saddles Last?
Wintec Saddles would last from 8 years up to 20 years based on the quality and on how you use and take care of it.
Wintec is one of the leading brands when it comes to synthetic saddles. Many are now recognizing the pros of synthetic saddles, especially those who are looking for affordable yet quality seats for their horses.
Synthetic saddles like the Wintec can have a long life, from 8 years up to 20 years, depending on various factors such as quality and craftsmanship. High-quality synthetic leathers that are accurately tailored to be the perfect saddle for you shall last you a lot of years.
However, buying the most quality and expensive synthetic leather does not guarantee a long span of life. You also need to do your part!
You should use your saddle and take care of it properly. Synthetic saddles are low maintenance so you do not need to fret too much about how you can make them last for many years.
What Is The Difference Between A Wintec 250 and 500?
Wintec 250 All Purpose and Wintec 500 All Purpose have differences when it comes to weight, color, stirrup keeper, features, and price.
Wintec 250 A/P weighs 5.2 kilograms (11.5 pounds) while Wintec 500 A/P weighs 6 kilograms (13.2 pounds). Wintec 500 is heavier than Wintec 250.
As for the color, Wintec 250 is only available in black while Wintec 500 is available in black and brown.
Wintec 500 offers a colored stirrup keeper, which is changeable, that is not featured in Wintec 250.
Another difference between the two models is their features. Wintec 250 has the traditional flock panel while Wintec 500 is available in both flock and HART (Horse and Rider Technology). HART emphasizes an innovative cushion system, custom and comfort seat, and Eastiflex tree.
As for the price, Wintec 250 costs $475 while Wintec 500 is more expensive, costing $695.
What Is The Difference Between A Wintec 500 and 2000?
Wintec 500 All Purpose and Wintec 2000 All Purpose differ when it comes to its seat material and price.
Wintec 500 A/P and Wintec 2000 A/P almost have the same features.
They both have the same weight, offer a deep seat, have super-soft panels, and have changeable stirrup keepers.
One of the distinct differences between these two models is their seats. Wintec 2000 has a suedey seat while Wintec 500 does not feature this.
As for the price, Wintec 500 is cheaper at $695 while Wintec 2000 is highly-priced at $940.
Are All Wintec Saddles Synthetic?
Yes, all Wintec Saddles are made of durable synthetic materials which are the Equi-Leather, Equi-Suede, and Equi-Fabric. 
Wintec is a well-known international brand for manufacturing the first synthetic saddles.
Rather than leather, its saddles are all fabricated using three artificial materials which are the Equi-Leather, Equi-Suede, and Equi-Fabric.
Equi-Leather
This material looks like genuine leather at first sight with its good quality, durability, and smooth finish.
It has been used in the 250 and 500 series as this is the toughest of all the artificial saddle materials.
Equi-Leather provides more freedom to the rider to move in the seat because of its smooth surface.
Equi-Suede
Equi-Suede looks like and feels like real suede due to its fibrous finish and is mostly featured in the 2000 model.
It offers a very comfortable seat for the riders, likewise more grip and stability because of its material. It is also very easy to care for and clean.
Equi-Fabric
Equi-Fabric has almost the same appearance and feels like a thick fabric and is used in the WintecLite models.
It is a highly durable, innovative woven fabric that recollects the first fabric used in Wintec Saddles in 1986.
It is lightweight, easy to care for, durable, and offers a greater level of grip for a more comfortable and stable seat.
Can You Put A Red Gullet In A Wintec Wide Saddle?
Yes, you can put a red gullet in a Wintec Wide saddle as the red-colored gullet bar represents the wide width which fits perfectly into the standard Wintec Saddles.
One of the edges of Wintec over its competitors is its adjustable gullet system. This system enables you to adjust the saddle's width to accurately fit across the wither of your horse with fewer difficulties.
This is very ideal for horses that are changing size and shape. For instance, the horses that are still maturing. Likewise, horses frequently drop and gain weight.
The gullet bars are in various colors where each signifies various widths. The red gullet bar represents the "wide" width.
To give you more idea about the represented width of different colored-gullet bars, check the list below:
Yellow = Narrow
Green = Medium/Narrow
Black = Medium
Blue = Medium/Wide
White = Extra Wide
Red = Wide
White = X-Wide
What Are Wintec Saddles Flocked With?
The first designs of Wintec Saddles are flocked with wool, but with the help of technology, innovative air panels (CAIR® Cushion System) are now featured on these saddles too.
Just like other brands, the original designs of Wintec are using wool to fill and shape the saddles in the most comfortable way for both riders and horses.
With continuous innovation for the past years, air panels have been developed which are now replacing the flocked wools in saddles.
Wintec has developed an exclusive system called the CAIR® Cushion System to offer better saddle seats with the help of air panels.
The CAIR® Air Panels are shaped meticulously to ensure a completely thick panel. Air is captured in an open-celled foam, then secured in the Air Panel.
Each panel of a saddle consists of two sealed Air Cushions. Likewise, Wintec also added some pockets to its saddles so you can add some wool if you are not satisfied with the initial fit to you and your horse.
Can You Reflock Wintec Saddles?
Yes, you can reflock a Wintec Saddle – either a wool-flocked saddle or a CAIR saddle.
It is quite challenging to reflock Wintec Saddles as they are designed differently compared to other saddle brands.
When you want to make simple adjustments to your wool-flocked Wintec Saddle, you may spend roughly $100 as wool panels are simple to adjust. Minor adjustments are usually needed every 6 months.
However, if you want a complete reflock, it may cost you around $250 to $350. You may need a complete strip reflock after a couple of years based on your frequency of horse riding.
As for the CAIR saddle, you simply need to undo the bolts and screws to be able to pull the air panels out, then you can reflock it just like the normal wool saddle.
What Size Of Wintec Saddle Do I Need?
The size of a Wintec Saddle that you need is based on the measurement of your horse's wither as well as your weight and body proportion.
Yes, you are very excited to get your very first saddle if you are a new horse owner, which is very natural!
You might be eyeing a specific brand already and have been comparing various models or styles based on the kind of riding activity that you prefer.
Once you finally made up your mind regarding the specific brand and style that you want, the next thing to consider is the size. Some saddle styles only have limited sizes that might not be able to accommodate your needs.
That is why you should know how to get the right saddle size for you.
The first thing to do is to measure the wither of your horse to know the size of the tree that you need which could either be narrow, medium, or wide.
Wintec Saddles come with adjustable trees so they are very ideal to be used on different horses.
As for your size, your body weight and proportion are to be considered. The seat size depends on whether you are petite, average-sized, large, or even an extra-large person.
Wintec has provided a seat size guide to compare stock saddles and English saddles for their customers to better assess their needs. Below is the approximate guideline:
40 cm/16″ to 42 cm/16.5″ = Small stock saddle
42 cm/16.5″ to 43 cm/17″ = Medium stock saddle
43 cm/17″ to 44 cm/17.5″ = Large stock saddle
44 cm/17.5″ to 46 cm/18″ = Extra Large stock saddle
In deciding your size, you must consider the type of saddle too – is it for jumping, dressage, or all purpose?
It is quite crucial to find the perfect saddle which goes beyond looking at catalog sizes and models on its website.
If you have an extra budget, it would be best to hire a saddle fitter to make sure that your first saddle will fit you and your horse in the most comfortable way.
Best Wintec Saddle
Wintec 250 All Purpose Saddle – $475.00
Wintec 500 Close Contact Saddle – $695
Wintec 500 All-Purpose Saddle – $625
Wintec 2000 Wide All Purpose Saddle with HART – $940.00
Wintec Isabell Saddle with HART – $1,495
References:
Wintec Saddles. (2021). Collections – Saddles and Accessories. https://wintec-saddles.com/collections
Strafford Saddlery. (2021). Saddle resources. https://www.straffordsaddlery.com/product/saddle-resource-information
Related Articles:
Are Circle Y Saddle Any Good? How Good? (Pro & Cons)
Are Bates Saddles Good? How Good? (Pro & Cons)