If you are looking for a premium brand for your tank equipment, you will surely encounter the Eheim brand as one of the top recommendations.
Eheim is offering all you need – from filters, heaters, to pumps. Aside from the brand being of German quality, what else should you know about it?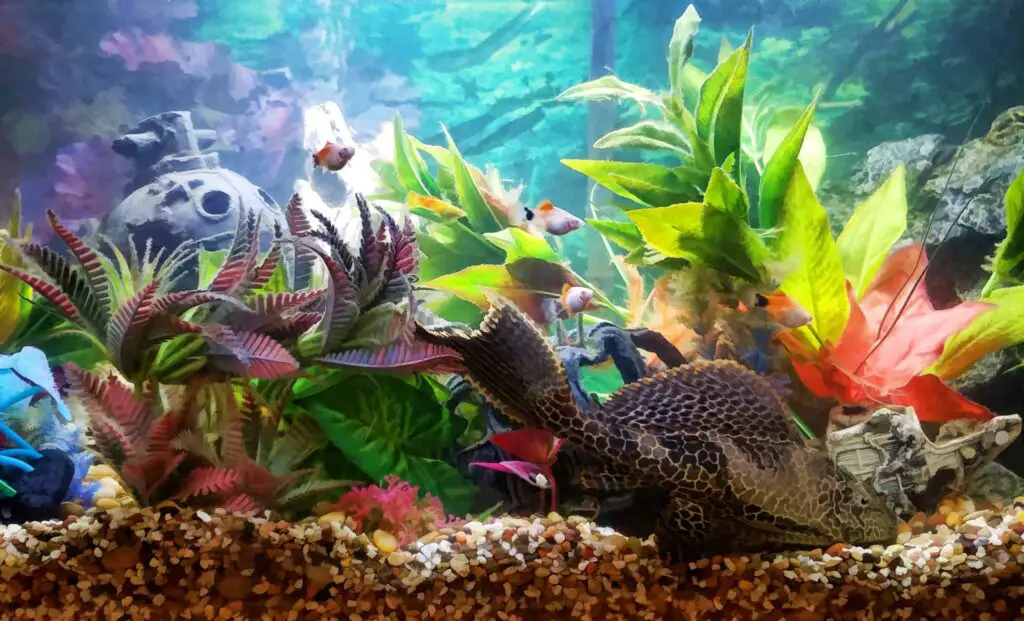 Eheim Filter
Eheim is one of the top choices in the market when it comes to filters. The German quality is certainly well-recognized by marine enthusiasts to be used in water tanks.
As the brand aims to offer a good filtration system in your aquarium, it has designed a wide variety of filters (internal filters, external filters, and hang-on filters) specifically tailored to suit your requirements.
Which Is Better, Eheim or Fluval?
Eheim is better than Fluval as it is more durable, more convenient to use, easier to maintain, and more innovative.
Eheim is simply a recognized brand that has proven its quality when it comes to canister filters. Fluval is also a great brand but it is not yet in the same position as Eheim.
Eheim has also established its high-quality filters that can last for many years. The filters are reliable, easy to maintain, and also very quiet.
The brand also offers innovative filters that can be controlled electronically, for instance through using your phone.
As for Fluval, some of its filters are high maintenance as they need regular cleaning and checking. Some of the brand's reviews also shared that its products are not as sturdy as Eheim's.
How Long Does Eheim Filter Last?
Eheim filters can last up to 30 years if properly maintained.
Ehem is a reputable brand when it comes to high-quality, durable filters.
If you are using your Eheim filter suitably and make sure to do regular maintenance – cleaning it and checking if all its parts are in great condition, then you are surely going to enjoy its long service performance of up to 30 years.
Is Eheim Made In China?
Some products of Eheim, specifically the Classic Series, are made in China instead of Germany.
Eheim is known to be a premium brand that is committed to quality and sustainability. The label "Made in Germany" reflects the quality of products to be of the highest reputation which sets Eheim apart from its competitors.
However, some products of the company are no longer manufactured in Germany since early 2000. Some productions are moved to China just like the Classic Series (filters).
Yet, the company assured that the production outside the border is supervised with the same standards and controls so its customers have nothing to worry about.
Today, more than 80% of Eheim's products are still designed and built in Germany.
Why Is My Eheim Filter Making Noise?
Your Eheim filter is making noise if it has air leaks, its components are not properly assembled or need some lubing, the shaft is bent, or there is some sand or silt inside it.
There are plenty of reasons why your Eheim filter is making a loud sound.
One of these is the possible air leaks which you can confirm with the creation of bubbles.
Precise fitting of each inside component is vital too. Loud noise can happen after you open and clean your filter if the impeller and shaft are not correctly and tightly assembled back.
Lubing is also important for a smooth movement between the impeller and shaft. Also, a straight shaft is important for your Eheim filter to run as quietly as possible.
Lastly, your Eheim filter can be noisy if there is some dirt inside it such as sand or silt which will certainly affect the movement inside your filter.
How Do You Get Air Out Of An Eheim Filter?
You can get the air out of an Eheim filter by simply detaching the quick connect on the outflow tube.
Having air in your Eheim filter can be caused by various factors such as improper installation of inside components.
One simple yet very effective way to get the air out of your filter is by detaching the outflow tube while the filter is running and filled with water.
You will hear the air blowing out and once you see the water nearly outside, put back the quick connect again. It is important to note that disengaging the quick connect should not be overly done as you just want to have enough room for the air to be removed.
Why Is My Eheim Filter Not Pumping Water?
Your Eheim filter is not pumping water because it is clogged.
The common reason why your filter is not pumping is due to some dirt blocking it. Thus, you need to do regular checking and cleaning to ensure proper performance and prevent potential damage to your filters.
Priming your filter is recommended to remove any clogged and enable it to pump water again.
How To Connect Eheim Filter WiFi?
To connect to Eheim filter Wifi, you will need to connect to its Wifi first and then go to the website link provided to set up your account and have full access to its features.
Eheim took its filter quality to the next level when it innovated its flagship models with the installation of Wifi control. Eheim Professionel 5e is claimed to be its best external filter today that can be managed wirelessly.
You first need to activate the Wifi function so you can control this intelligent filter on your smartphone.
You will need to connect to the Wifi of Eheim Professionel 5e where you will be directed to the website's link for setting up your profile. This shall give you instructions on how to fully access the filter's features.
How Often Do You Clean Eheim 2217?
You should clean your Eheim 2217 every 4 to 6 months depending on the wastes going inside it.
As a new aquarist, you are probably thinking about how often you should clean your Eheim 2217 filter.
The answer depends on the size of your tank, what's inside it, and the kind of fish you have as some of them can be really messy.
If you have an overstocked aquarium with messy fishes like Oscar, then you need to clean your Eheim 2217 every 4 to 6 months as you can expect more wastes to get into your filter.
What Are The Most Popular Eheim Filters?
Eheim Heaters
Aside from filters, Eheim is also recognized for making premium heaters that reflect the quality of German engineering.
Heaters are necessary to maintain the temperature of water in your tank. These are essential to those kinds of fish that need to live under a specific warmth, otherwise, their health may be in jeopardy.
Eheim heaters are divided into three groups (thermopreset, thermocontrol, and thermocontrol e) that you can choose from depending on your heater's preference.
Are Eheim Heaters Good?
Yes. Eheim heaters are good as they are truly high-quality and accurate products at a reasonable price.
Eheim heaters are always listed on the top tank heaters as these are proven to be accurate and durable; plus it is German made which greatly contributes to its perceived quality that you can purchase at very fair prices.
These heaters are known for always providing the correct temperature and maintaining the amount of heat that you desired your tank water to have.
These products are also manufactured to be safe as they are usually shock-resistant and shatter-proof.
How Long Do Eheim Heaters Last?
Eheim heaters can last up to 10 years or even more with proper usage and maintenance.
Eheim heaters are planned and built for long-term use. With their innovative design and quality materials, you can be sure that they can offer you long-term performance.
Eheim heaters can last up to 10 years or even more provided that they are being used correctly and inspected and repaired regularly if needed.
What Are The Most Popular Eheim Heater
Jager Aquarium Thermostat Heater is the most popular heater of Eheim. It is fully submersible and made of glass that is resistant to shocks and is shatterproof. Likewise, it will automatically turn off once the water level becomes too low. It is also very accurate and can be recalibrated.
Eheim Pumps
Adding pumps in your aquarium is necessary to provide your marine pets a suitable living space that resembles their natural habitat.
Eheim also offers various pumps that are categorically divided into three groups – the powerhead, compactON, and universal. It offers a wide selection of pumps based on your tank's needs.
Are Eheim Pumps Good?
Yes. Eheim pumps are good because they are very convenient to use, well-constructed, durable, and very quiet.
Unlike other pumps in the market, Eheim pumps are well-made to ensure that they will last for many years.
Most of the brand's pumps can be used in water or out of the water. They are definitely convenient and adjustable. Aside from the high reliability, one outstanding feature of Eheim pumps is their smooth and quiet operation that cannot be found in other pump brands.
Where Are Eheim Pumps Made?
Eheim pumps are made in Germany. The canister body of these pumps is built in China, but other than these, all parts and assembly are done in Germany.
Some customers are questioning the quality of Eheim products nowadays since the company started manufacturing some of its products in China.
The specific production of products that were transferred in China is the Classic series of the brand's filters. Other than these, the majority of its products are still produced in Germany such as its pumps.
What Are The Most Popular Eheim Pumps?
References:
Flickerton, B. (2020, November 9). 7 reliable heaters fully submersible with thermostat. Fish Tank Advisor. https://fishtankadvisor.com/best-aquarium-heater-reviews/
Related Article: